Your Al personal assistant, music studio, and phone.
Smart Headphones That Understand You
A Voice-controlled Mobile Assistant that Understands You.
Ask Vinci to change the music or for directions to a local restaurant. Tell it to schedule an appointment or dictate a text. Vinci works independently of your mobile phone, delivering on-the-go convenience. No need to connect to or manually search on your mobile phone.
3D audio recording and playback
Immersive 3D sound.
Comfortable, ergonomic design
Personalize your Vinci.
Vinci Smart Headphones are the central hub of your connected world – a smart, wireless headphone that is controlled by your voice and powered by cloud technology, with no connection needed to your mobile phone.
Vinci allows you to voice control your music when manually choosing songs on your phone is inconvenient. No matter what you're doing – walking, running, or commuting – you can tell Vinci exactly what song or artist you want to listen to, say a specific genre or mood, or let Vinci pick a song for you.
Voice-controlled and hands-free, Vinci connects you with music requests, information, directions, local venue recommendations, reminders, and so much more. When you need Vinci's help, simply say "Hey Vinci" or use one finger to press and hold down on the touch screen, and Vinci will instantly recognize your voice command to assist you right away.
Listen to any song with Spotify, Amazon Prime Music, or SoundCloud.
Vinci is a standalone device, so there's no need to connect to or search your mobile phone. Enjoy total freedom when jogging, traveling, or commuting to work.
Vinci also uses dual-mic noise reduction technology to filter out ambient noise from the desired sound, which improves voice recognition in any noisy environment.
We held a product demo day in New York, and everyone loved our headphones! Check out what New Yorkers have to say about Vinci's "crisp and clear" sound quality, comfort, and easy-to-use interface.
Vinci senses and learns from your body vitals, activities, listening habits and preferences to make intelligent, real-time recommendations. You don't have to choose songs yourself. Vinci learns from your body and activity data to pick songs that match your pace, heart rate, and listening preferences.
Vinci can anticipate what you want — from a song choice to an alternative travel route or commute type — before you even realize you need it.
Vinci also includes an accelerometer, gyrometer, proximity sensor, optical heart rate sensor, GPS, and compass to deliver impressive personalization.
Vinci AI Architecture
With hundreds of thousands of soundtracks from massive music resources, Vinci learns the abstractive representations of songs, powered by deep learning techniques. Sounds will be extracted as signals, and then fed into neural networks after pre-processing.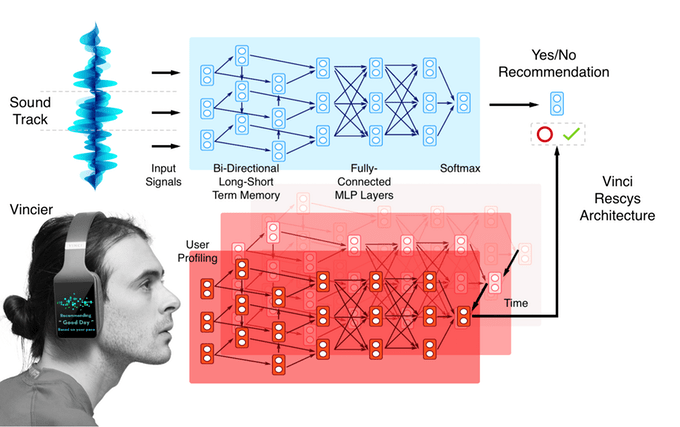 Bi-directional Long-Short Term Memory (Bi-LSTM) models the sequential patterns of inputs, while more than one layer of fully-connected neural networks (often known as Multi-Layer Perceptron) enables abstractive learning. User profiles are established by their behaviors (such as "like" or "dislike") towards recommended songs. Such data are accumulated over time and modeled as temporal transition chains.
With statistics learned, preferences are learned accordingly. In this way, Vinci becomes smarter when deciding what to or not to recommend next time, based on "deep learned" user-song matching.
The Most Interactive Headphones, Ever
Vinci is super easy to use. Put the headphones on and music automatically plays. Remove them and music automatically pauses.
FAQs
1. Does Vinci need to connect to my phone to work?
No, Vinci can work completely independent from your phone. But, it can also connect to your phone via Bluetooth or wires.
2. Where does the music come from?
Currently, Vinci offers music streaming from your Spotify, SoundCloud, and Amazon Prime Music accounts. Through future OTA software updates, Vinci can be connected music content services, such as Google Play, Pandora, iHeartRadio, iTunes Music, and more. Alternatively, you can also upload songs directly into Vinci's local storage.
3. How big is Vinci's local storage?
Vinci's local storage is 16GB and Vinci Pro's local storage is 32GB.
4. How Much Local Storage capacity ?
Vinci's local storage is 16GB
5. How does Vinci connect to the internet?
You can log into WiFi directly on Vinci. Vinci is also enabled with standalone 3G connectivity that is compatible with AT&T and T-Mobile.
6. What languages are supported by Vinci?
Currently, Vinci supports English. However, we are quickly adding new languages in future OTA software updates.
7. How do I choose colors?
After the InDemand campaign, we will email all of our backers to allow them to choose colors.
8. What does the cost of shipping cover?
The shipping cost covers: 1) Overseas shipping. The final product is assembled in China thus the shipping cost was calculated based on origin of manufacturing. 2) We really want to make sure the product arrives promptly and in its best condition. Thus the shipping cost covers quality packaging materials while we work with reliable shipping companies to do this.
9. Can you cache songs from the music services?
We are currently working with these music providers, including Spotify, Amazon Prime Music, and others to provide this feature, which is already enabled with the SoundCloud service on the device.
10. Will Vinci work with mobile networks in different countries?
Yes, users will be able to find local carriers in most countries that support either configuration of the bands below:
Config I: Supports Band 2 and Band 5 (1900MHz and 850MHz, North America)
Config II: Supports Band 1 and Band 8 (2100MHz and 900MHz, Asia, Europe, Australia)
We will send out surveys at the end of the campaign for you to choose your desired configuration.
11. Does Vinci support languages other than English?
Yes, additional language options is something we are definitely working on and will be available through future OTA updates.
12. Can I turn the screen display off?
Yes, you can press the power button to turn off the screen while music continues to play. This will preserve your battery, allowing it to last up to 14 hours.
13. Will there be additional colors ?
Yes, we are definitely considering additional colors. Please stay tuned for updates.
14. How long is playback via Bluetooth or local storage if the screen remains turned off?
Playback via bluetooth will allow up to 50 hours battery life and via local storage will allow up to 12-14 hours.
15. What is the radiation impact of long term usage on the brain?
We care not only about users' music experience, but also most definitely their safety. So far, the device has been through rigorous tests related to cellular radiation, WiFi and Bluetooth. The device has passed the FCC (Federal Communications Commission) certification. We also optimized all WiFi and 3G signal to ensure smooth streaming while maintaining minimum power consumption.
16. Does Vinci support Apple Music services?
At the moment, to listen to Apple music, you can use bluetooth.
17. Why are voice-assisted headphones useful?
Voice-assistance helps users save time by allowing the user to simply say any song title, artist name, or genre. Dictation actually can save people up to 3x the amount of time as typing. We believe voice-assistance will aid the current music listening experience: turning on your phone, logging in with a password, opening a music streaming app, manually searching or typing to find songs. With voice assistance, you can simply talk to choose songs. If you are vacuuming, lifting weights, shopping, or doing any other activities which may occupy your hands, voice assistance will help you be able to control your music without affecting your other activities.
18. For example, what type of files does the storage hold?
We currently support MP3, AAC, AMR, FLAC, WAV, AIFF formats.
19. Can you download apps within the Vinci itself? Or do they come pre-installed?
We are planning to provide SDK to our developers community to create exciting and innovative third party apps on our headphones. The third party apps will be available via our in headphone app stores. Stay tuned for more updates.
20. Will Vinci support multiple English accents apart from North American?
So far, we have been testing mostly with standard American English, but we are planning to enable other accents (British English, Austrailian, etc.) very soon!
Vinci Smart Headphones are also featured on
Available Options to Shop